Some years ago, a slogan outside a two-star hotel in Bournemouth grabbed my attention: "Say Yes to the Yenton". I popped in for a look and came away with its rhapsodic brochure (see below), which inspired the following (warning: long) poem. In fact, this was the first poem I ever read in public – in the poetry slam competition at Ledbury Poetry Festival.
Say Yes to the Yenton
So many reasons
to Say Yes to the Yenton,
the Hotel For All Seasons
where a trouser press
is available
on request.
Say Yes
to a warm greeting
from smiling staff
and award winning
central heating.
Say Yes to the Yenton,
a Piece of Country
in the Heart of Town.
Our rustic grounds
rolling down to the river
teem with wildlife.
Birds, for example
and squirrels
and insects
too numerous
to mention
here.
Say Yes
to twenty two
well groomed bedrooms
overlooking
our rustic grounds.
All equipped
with stylish
clothes hangers
of various shapes
to suit all tastes.
Say Yes to the Yenton
where well behaved dogs
are accepted
by prior arrangement
but not in public rooms
or rustic grounds.
And owners must pay
for any biting
or chewing
of soft furnishings
by dogs
or owners.
Many comment on
Restaurant La Yenton,
so romantic at night
its subtle lighting
gently falling
on Grecian figurines,
enviously eyeing
culinary delights
delicately prepared
by our chef de cuisine
who has visited France
three times.
Children may choose
half portions
or the Yenton
'Juniors' menu
for under eights.
Proof of age needed.
Why not say Yes
to a relaxing drink
after your meal
with friends
old and new
in Mac's Bar.
Overlooking
our rustic grounds.
It's spacious, elegant,
tastefully refurbished
in traditional style.
It's an ideal spot
to contemplate
evening shadows
creeping over
our rustic grounds.
Say Yes to the Yenton.
We've spent an
awful lot of money
to keep it in peak condition
to your complete satisfaction
from fresh redecoration
in the low season
to minor daily repairs
as and when required.
Say Yes to the Yenton
where
according to
our visitors book
Twenty July
Nineteen Seventy Nine
Mr and Mrs
P Harris
had a really nice time.
Say Yes to the Yenton.
---
Some extracts from the original brochure: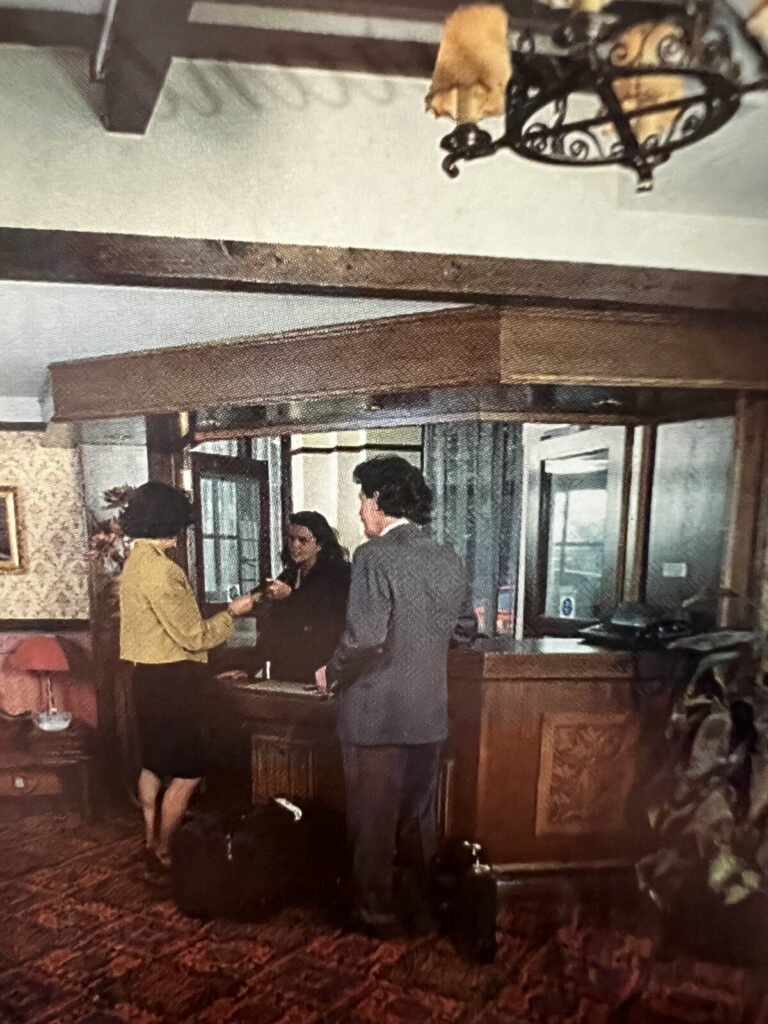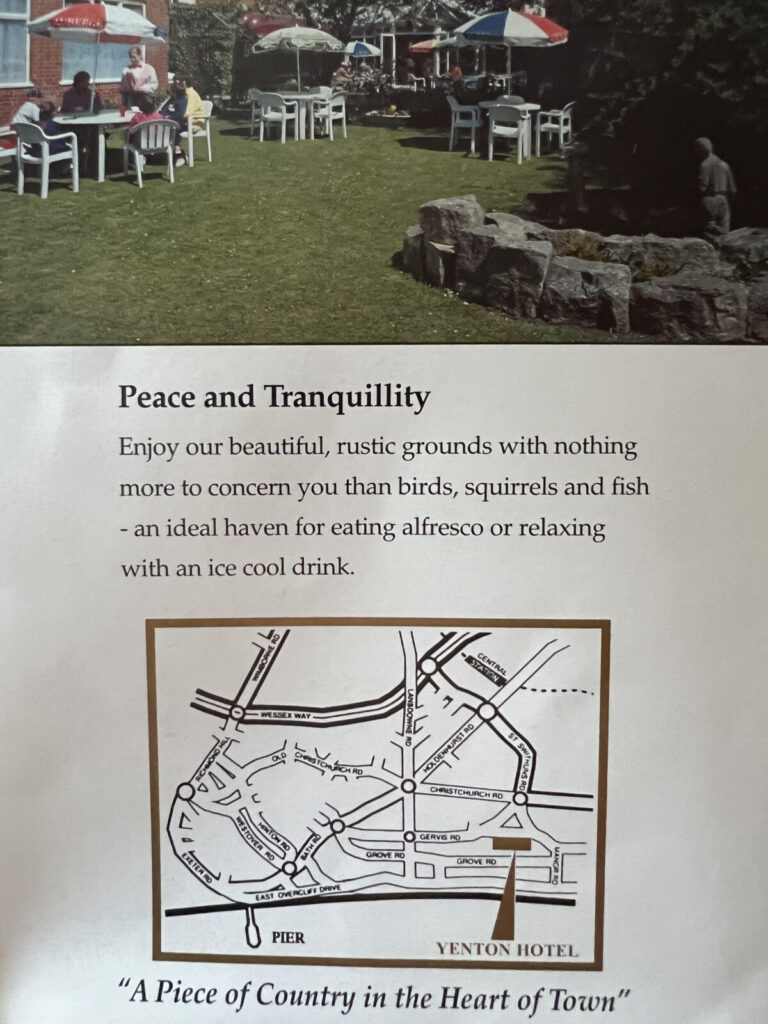 ---